Hello, hello, hello!!
First off! Amy posted my letter. It's
here
.
Secondly!! Have you ever watched a movie that leaves you feeling like you've had about three energy drinks and a bag of skittles? When you watch the movie at the perfect time for your mood and the absurd love you feel for it comes bubbling up in skittish energy? And you run around shadowboxing and squealing the name of your favorite character over and over again?
Please tell me Amy and I are not the only ones.
Because we watched
The Eagle
last night.
AND I LOVE THAT MOVIE! I LOVE THAT MOVIE!!!! *Shadowboxes.* It was so awesome! The battle scenes were awesome. The characters were awesome. The scenery was awesome. The
movie
was awesome. I liked one character the teensiest bit more than the other one. But I like small people.
Esca!!
Marcus!!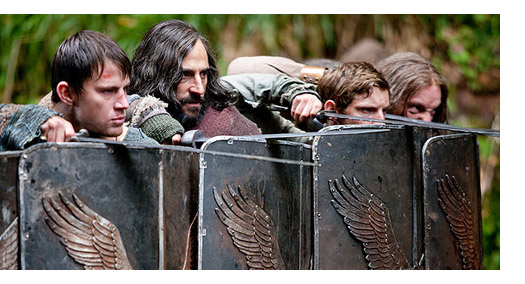 Yeah. Lots of love for that movie. A kind of embarrassing amount of love since it's not really a girl movie, (a bit violent) but there you go. (It also had some of the most beautiful filmography I've ever seen. And it's in set in Britain....) *sheepish grin.*
Thirdly!! Both
Kat
and
Alyianna
tagged me!
Isn't it funny, how you can go for months without a single tag and then BOOM BOOM BOOM!!!! You're hit with eight or so in a single week. Ha!
Kat got bored with the tag that was going around, so she made her own. She's like that.
Rules:
*Answer the questions
*Tell four very random things about yourself
*Nominate if you feel like it. (or essentially that.)
Kat's questions:
1.) What sort of a book would you describe yourself to be? (i.e., are you a fantasy, historical fiction, dystopian, etc?)
Um.... I'm on of those fictions that has a mix of fantasy, some snappy dialogue, and touch of insanity.
2.) What would be likelier to do? Order a coffee with a British accent, or pretend to be deaf when someone talks to you?
Order a coffee with a British accent. Under the name River.
3.) A total stranger comes up to you. Do you (a.) react instantly and punch him in the face before he has a chance to introduce himself? (b.) step back and wait to see if he is hostile before punching? or (c.) go all coward and run away, screaming like a banshee?

It really depends on the situation!! Like say, for example, that a thuggish man with cauliflower ears and a bashed nose was nearing my proximity with a snappy gait I would definitely punch him in the face and run.
However
, if he happened to look nice and non-threatening, B would be my reaction.
4.) Would you prefer to be sick with the stomach 'flu or a shockingly bad case of strep throat?
You're killing me here. I haven't had strep that I can remember, so I'm going with that. Because I just had the flu. I would rather have faced the Silence.
5.) If YOU could be a superhero, what type would you like to be?
Well I wouldn't be Tap Man. I'd be more the silent and deadly type. With a gun.
6.) Someone yells "Obey!" What's the first thing you think of?
I think of Daleks screaming, "OBEY!" at each other. In harmony.
And for the four very random facts:
1.) I think the way arms are shaped is weird.
2.) I can seriously love violent action movies as long as they have a good ending.
3.) I can do the "Live long and prosper" sign with both hands.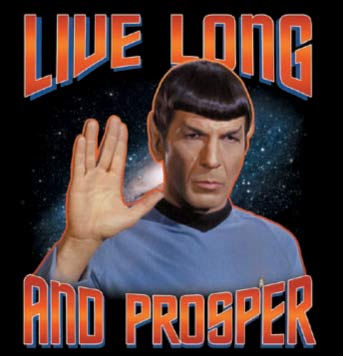 4.) I hate (with a capital H) trying new things. New activities, new situations, new roads... Hate.
Okay!!
And now I move on to Alyianna's...... Shine On award!
Rules:
*Link back to the person who nominated you: Done
*Post the badge on your blog: Done
*Answer the questions posed.
*Nominate five bloggers who shine a light on your day and notify them.
*Issue some questions you'd like them to answer
Questions!
1.)
Who are your five favourite authors and why?

In no particular order:
Ally Carter
: because her books are hilarious. Because she can write good heroins who are tough and clever, but not obnoxious. And because her guy character tend to be really, really cool.
Owen Francis Dudley
: because he writes the best Catholic books in the history of the world
Anthony Horowitz
: Because his book are awesome.
J.R.R. Tolkien:
No explanation necessary
Rick Riordan
- because.... I like his books. Do I really need a reason? Okay. Percy. And Jason. But mostly Percy.
2.) If you had one day left to live, what would you do? (Oh, and it does matter how long your answer to this. A schedule for the whole day would work, too. xD But I doubt any of you will want to spend that much time on it. ;P)
Pray. Receive the Sacraments. And.... I don't know.... spend it with my family. It would stink to have to plan your own last day to live though. Just sayin' :)
3.) What are your top twenty favourite foods? :P
..................................... It's
Lent
, people! ALL the food sounds good right now!
4.)
Which of these would you rather do?
- save the world with Percy Jackson
- spend a day riding horses and shooting targets with Merida (that red-headed princess in Brave)
- travel Middle Earth with Gandalf (you're not going to spend much time in any place, though)
Um...... CHOICES! I hate making choices. All of them. There. Now I don't have to choose.
5.) Which of these would you rather do?
- work in the house with Cinderella but get to go the ball with her and end up marrying Cinderella's prince's brother
- time travel with the Doctor (I haven't watched that show...yet.)
- spend a day at home alone getting to do whatever you want to do
Waal. Either travel with the Doctor:
OR spend a day at home alone. I love the simple stay-at-home days, where you can just relax and work on your hobbies. (but I must admit. I did not know that Cinderella ended up with a brother-in-law. That's pretty cool. But nah. I would never want to marry into royalty.)
And now, you nominees, here are my questions to you:
1.) Avengers or Batman?
2.) What is your favorite kind of dog?
3.) Bourne or Bond? (I actually have never seen a single James Bond movie. But he has a cool name.)
4.) Do you have any desire to learn how to use a gun? Sword? Bow and arrow?
5.) When watching a movie in a different language, would you rather subtitles or have it dubbed over?
And now, I will nominate. You ladies and pick which award you want. Or you can do both. Or whatever. It's up to you. :)
Rachel
Hilda
Cait and Mime